PRA Home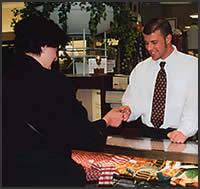 The Pennsylvania Retailers' Association is the premier retail trade association in Pennsylvania whose encompassing membership consists of small and large independent retailers as well as the national retail chains.
Founded in 1932, the PRA's mission is to:
• Represent the retailing industry in the state's legislative chambers, protecting and promoting the welfare of those engaged in retailing.
• Keep our members informed about laws and regulations affecting the retail industry.
• Offer our membership money-saving services to assist them in growing their business.
In past years, the Pennsylvania Retailers' Association has been directly responsible for adding millions of dollars to retailers' bottom line.
Some of our notable successes are:
Reducing Workers Compensation Insurance premiums for retailers.
Being directly responsible for enactment of Sales Tax Bad Debt Refund on uncollectible losses.
The repeal of Pennsylvania's Debt Collection Regulations, which were viewed as the most cumbersome in the nation.
Successfully establishing one the most retail friendly Accuracy in Price Scanning laws in the nation to help protect consumers and retailers alike.
Continuing to be successful in our lobbying efforts against expanding Pennsylvania's Sales Tax to clothing and footwear.
Successfully requested the Governor's Office and PA Department of Revenue to make a policy change that will force internet-only retailers to collect and remit sales tax on purchases made by PA residents. Currently, those businesses enjoy an unfair price advantage over traditional brick and mortar stores that collect sales tax. This change takes effect September 1, 2012.

Successfully passed legislation in 2011 that prohibited twice monthly sales tax filers to collect and remit bi-monthly beginning on May 31, 2011. PRA's language accelerates sales tax remittances, but does not require two filings.
Pursuing a follow-up bill to Act 33 of 2010 which made organized retail theft and felony in PA. This session we intend to lower the state's felony threshold from $2,000 - which is significantly higher than the national average - to $1,000.
The Pennsylvania Retailers' Association's building is located across from the State Capitol in Harrisburg. Please feel free to stop by and meet us personally.
Calendar of Events

82nd PRA Annual Members Meeting & Luncheon
1:00 PM
PRA Offices
224 Pine Street
Harrisburg, PA
and
32nd Annual Silent Auction & Reception
5:00 - 8:00 PM
Harrisburg Hilton & Towers
One North Second Street
Harrisburg, PA
Find us on Facebook & Twitter!